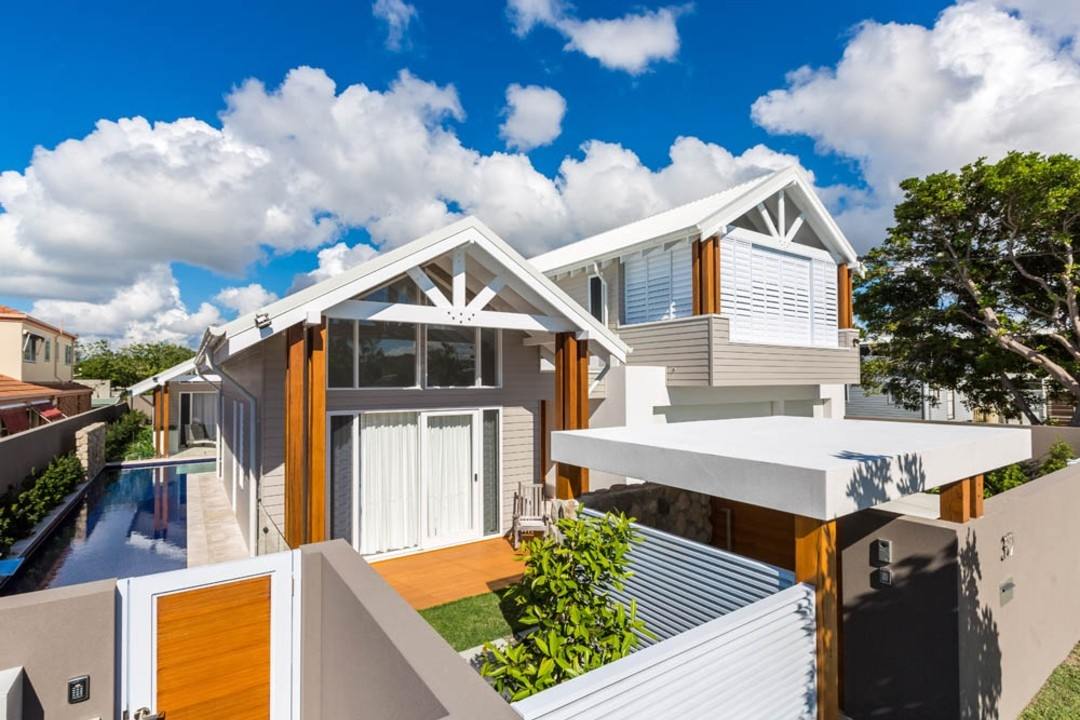 Gold Coast Builders
Exceptional Design Paired with Quality Service
Cameron Constructions are your leading Gold Coast builders, offering friendly and professional service combined with cutting-edge designs that emanate the sense of luxury your lifestyle has been missing.
We have a team of architects, draftsmen, sub-contractors and suppliers who are extensively trained and qualified within their specialist field. The same applies to our Founder, Shamus Cameron, who has over 19 years of experience in the building industry. Shamus has perfected the process behind our work to deliver an exceptional home construction experience, paired with results that exceed the current standards in our industry.
Within our portfolio, you can see for yourself how our Gold Coast builders continually push the boundaries of architecture to bring new and exciting ideas. Having the capabilities to work across all aspects of the project—from design to development—ensures that every idea is 100% structurally feasible and built in the most affordable, yet sustainable way.
Some of the Projects Our Reputable Gold Coast Builders Have Completed
Throughout our time in the industry, the Gold Coast builders from Cameron Constructions have produced a number of stunning, award-winning homes. From luxurious retreats through to the multi-faceted family home of your dreams, we have the capabilities to fulfill unique and stringent demands with no compromise. For example:
Riverside: The home exudes opulence, with an ambience created by dark features that contrast beautifully against the natural light that filters through the large windows. An open living plan facilitates seamless transition between spaces, and we incorporated stand-out features like a home cinema and tennis court to meet the client's lifestyle requirements.
Beachside: This light, bright and architecturally unique beachfront home ticks all the boxes of both practicality and style. Tall ceilings give the impression of never-ending space, and every selection—from the aggregate flooring to the light oak of the stairs—ties in perfectly to create that holiday feel.
Why Choose Cameron Constructions for Your Home Project?
Our Gold Coast builders see it as our responsibility to maximise the potential of your vision by implementing advanced architectural expertise and construction methods.
Whether you have a pre-designed plan for us to execute or some concepts you'd like to experiment with, we'll work closely with you to translate all lifestyle needs and style preferences into the project. Our Gold Coast builders have great confidence in our abilities; however, the words are more meaningful from our valued customers! Here's what one had to say:
"My wife and I contracted Cameron Constructions to rebuild our house in 2011. We were thrilled with the knowledge and professionalism demonstrated by Shamus and staff throughout the building process. The highly skilled tradespeople, expert design suggestions and their ability to work collectively with us each step of the way, further instilled our trust and confidence in Shamus and his team." - Luke & Melanie C.
Conclusion
Whether you're contemplating a new renovation or have a dream plan you've been waiting to execute, you can trust the Gold Coast builders from Cameron Constructions will go above and beyond to exceed your expectations. We prove that you don't have to compromise affordability to get a luxury-grade result! Call us on 0405 309 160 to speak to our Director Shamus, or email your enquiries through to shamus@cameronconstructions.com.au.
Other Articles
Dec 2, 2020 Custom Home Builders Gold Coast
Dec 2, 2020 Prestige Builder Gold Coast
Oct 14, 2020 Burleigh Builder Bespoke Builder
Sep 29, 2020 Award Winning House Builders in Gold Coast
Sep 29, 2020 The Most Prestige Home Builders Gold Coast
Sep 21, 2020 Bespoke Home Builders Gold Coast
Sep 16, 2020 New Home Builders Gold Coast
Sep 15, 2020 Luxury Home Builders Gold Coast
Sep 8, 2020 Builders Burleigh Heads
Jul 10, 2019 Queensland Owner Builders
Apr 3, 2019 Custom Builder vs Project Builder
Oct 4, 2018 Custom Builder Advantage